The printing company you choose for business may be one of the most important decisions you can make. You are trusting them to provide you with products and services that will have a direct reflection on your product or organization. Making a good impression is the business of Diamond Business Graphics, a division of Graphic Communications, Inc.
Whether you're interested in a simple form, a full color piece or an advertising specialty item, you can count on us to provide the best quality and services available. We also offer services from computer designing and desktop publishing to printing, folding and finishing. Established in 1915, Diamond Business Graphics is a fourth-generation family- owned and operated business. You can rely upon us to handle logo and graphic designs, business documents, envelopes, labels, tags, ad specialties and computer papers. All the necessary items your business needs for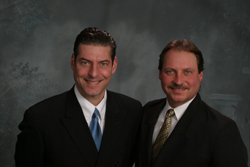 Owners Drew & Trent Hake
it's day to day operation can be professionally handled by our account executives and customer service staff. These individuals are in geographic areas throughout the Midwest. Each employee has multiple years of experience in all facets of the business.
Besides the actual printing, Diamond Business Graphics also has a no-cost warehouse program for our customers with shipping, distribution and fulfillment services. Our most valued asset, "our customers", can also choose from many different types of document management services such as: in-house personal inventory, off-site inventory and online ordering with warehouse distribution.
Whatever your printing needs, you can count on Diamond Business Graphics to handle your request professionally and in a timely manner. Owners Drew and Trent Hake believe no job is ever too large or too small, whether it's the size of an order or the distribution and fulfillment that meets your needs.